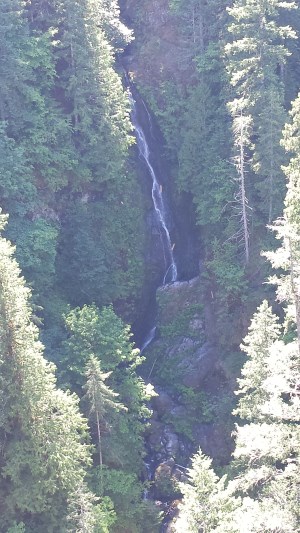 While traveling to Discovery Bay with my Parents, we decided to check on a couple waterfalls that were along the way.  There were four of them between Shelton and Port Townsend that we had identified and we had hoped to visit at least 2 or 3 of them.  I hadn't done a significant amount of research on any of these falls, but I had downloaded a brochure from olympicpeninsulawaterfalltrail.com before we left on the trip.
The first one we stopped at was Vincent Creek Falls.  When we searched for Vincent Creek Falls on our GPS, we found no applicable result, but then we searched for High Steel Bridge and got a hit.
About 9 miles north of Shelton, we turned onto Skokomish Valley Road and drove west for about another 10 miles before making a right turn onto Govey Road.  This road took us into the middle of nowhere.  I know we were in the middle of nowhere, because the road name turned into a number.  Govey Road become NF-23, and soon after that, we turned onto NF-3240 before parking on a wide spot in the road and walking out onto the High Steel Bridge.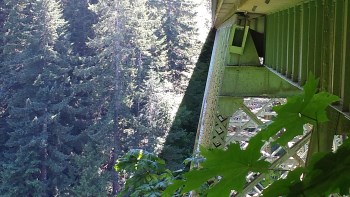 The High Steel Bridge spans across a deep but narrow Skokomish River valley.  From the bridge, you can see the river about 420 feet below.  After walking about half way across the bridge, I looked back over my left shoulder and saw the narrow Vincent Creek Falls dropping about 125 feet over the side of the chasm and then winds down into the Skokomish River.
The word is that the falls are most spectacular in the spring and early summer.  We were here in July, and so the water was not running very heavy.  Even so, the height of the waterfall and the views from the High Steel Bridge made this trip very worthwhile.