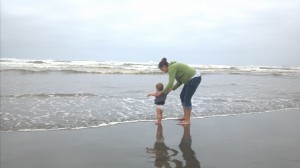 Much of my purpose for traveling to beach is for the pleasure of walking on the beach and watching the kids play in the sand and in the water.  Having 2 young grandchildren along with us for our trip to Long Beach, WA, we are enjoying it immensely.
On the first full day at our destination, we took some time to walk the short jaunt to the beach.  At about 65 degrees F. we prepared for the cool temperatures by wearing sweatshirts or windbreakers.  A short distance into our walk, we began shedding our jackets.  Sixty-five felt warmer than I had expected it would.
Of course, the kids were oblivious to the cool air.  They just wanted to run and play in the sand and water.  There would be no keeping them away from all that.
The breeze was strong enough to fly our kites that we brought with us to the beach.  I may have enjoyed the kite flying more than the babies.

I'm really not much of a "water person", myself, but there is something about long walks along the shore that is so relaxing and refreshing. With 28 miles of sandy beach, Long Beach gives plenty of opportunity for those long walks.
This trip to Long Beach is during the week following the Independence Day holiday.  After scheduling our vacation for this week, we found out that they are having an annual sand sculpting competition at the end of the week.  I'm sure we will schedule more time at the beach during the festivities.