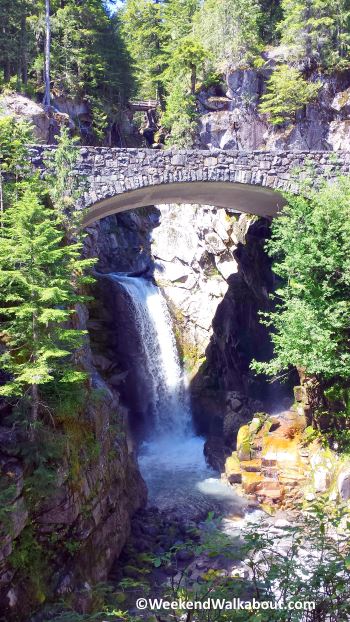 Christine Falls is another popular "quick stop" along Paradise Road in Mt Rainier National Park.  After we left Paradise, where we saw Myrtle Falls, and after we had stopped for a few minutes to view Narada Falls, we came to a small parking area where a number of people had pulled off the road to see Christine Falls.  This is another waterfall that you can see from the roadside, but offers the best pictures if you hike down a couple hundred feet to a viewpoint.
This small, but photogenic waterfall is a popular due to its close proximity to the road, but also because the attractively built bridge over the falls and the narrow rock walls create a nice frame for the falls.  This final waterfall on Van Trump Creek falls a total of about 69 feet in two tiers, however, it is nearly impossible to photograph both tiers at the same time.  I've seen a photo taken with a wide angle lens from the top of the bridge that shows both the upper and lower tiers.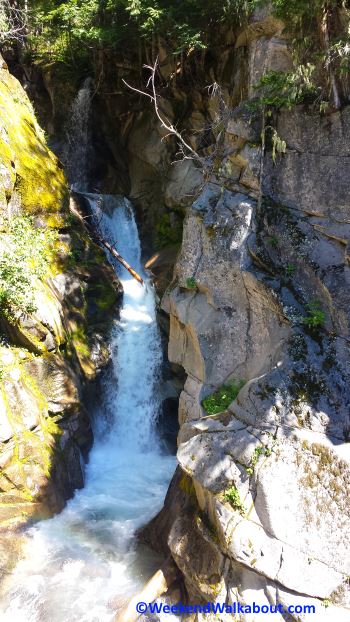 The entire walk down to the viewpoint and back up to our car was about 350 feet with about a 15 elevation change.  That includes the fact that I slipped past the railing and edged down just a little farther to see if I could get a better angle for my photographs.
The day we were there was a clear sunny day which cast bright contrast and dark shadows in my photographs.  Some clouds would have helped the photography, but I wouldn't trade it for the pure enjoyment of our trip.
After a few quick photos of Christine Falls, we walked up the road a couple hundred feet to the Comet Falls trailhead, eager to begin the climb to the most spectacular waterfall on this day's  journey.