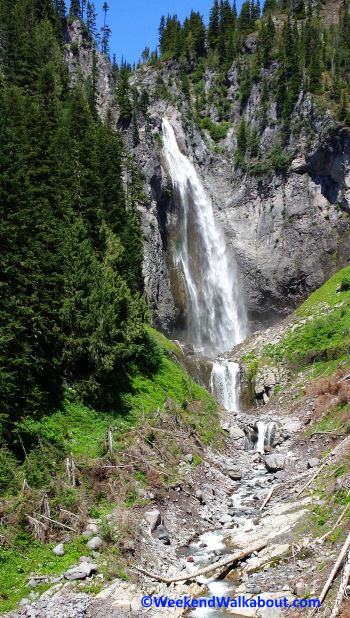 Hiking the Comet Falls Trail was the primary purpose of this particular trip to Mt Rainier National Park. Though we had on the agenda to visit Myrtle Falls, Narada Falls, and Christine Falls along the way, Comet Falls was definitely the "Big One". It would also prove to be the most challenging and the most rewarding.
The scenery was beautiful for the duration. At one point, the forest opened up and gave us an awesome view of Mount Rainier. Mount Rainier is one of those settings that makes a great backdrop to almost any photograph. This one was no exception.
Along the way, we noticed another waterfall that I hadn't planned to see. At the time I was photographing this waterfall, I didn't know exactly what we were seeing. After some online research, later, and viewing some photos that others have posted, I believe that we were looking at Van Trump Falls.
As we came nearer to the destination waterfall, we found a rustic footbridge that was on the trail. A sign revealed that we had 200 feet more to hike and directed us over the footbridge.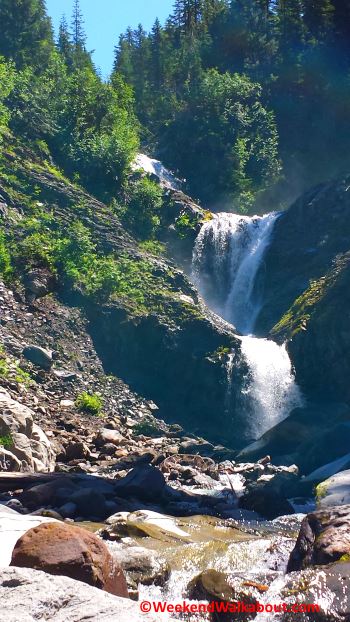 Just above the footbridge was another very beautiful multi-tiered waterfall. This was another waterfall that was not on our agenda, and I didn't know at the time what it was. My research leads me to believe that it was Bloucher Falls. It was another nice gift to us from the Comet Falls Trail.
By now, we were really feeling the pain from the constant uphill climb. Seeing the "200 ft" sign was a real encouragement to us. At about this same point, there were a number of hikers on the way down encouraging us to keep going (we had no intentions of stopping here) as the destination was well worth the struggle.
Arriving at the waterfall felt amazing. Not only could we revel in our accomplishment of having endured a workout well beyond what our training had prepared us for, but the view was breathtaking and the mist from the falls was very refreshing on this warm summer day.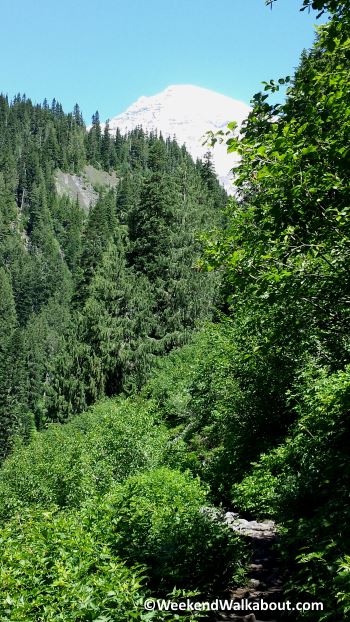 After several minutes of wandering around the base of the falls and taking advantage of the picturesque setting for a few photographs, we found a large flat rock to sit down on while we settled in for lunch. When we made our sandwiches earlier in the morning, we hadn't yet decided on specific plans for where we might have our little picnic. But now, the timing was right and the backdrop was perfect for a light lunch under the falls.
A nearly thirty minute break was all the rest we needed and we began our descent back to our car. The nice thing about a one way, two mile, all up hill hike into the wilderness is that the return trip is all down hill. We made much better time on our return.
By the time we returned to our car, we had traveled 4.11 miles in a moving time of 2 hours 15 minutes and a total time of 2 hours 41 minutes. The elevation gain for the hike was about 1250 feet. I suppose it shouldn't have been all that strenuous, but our conditioning is questionable, so this hike was a good, aggressive workout for us. By the end, I felt like I had accomplished something. I told my wife after the hike that we should do one like this every week. She, basically, told me that I would be hiking alone.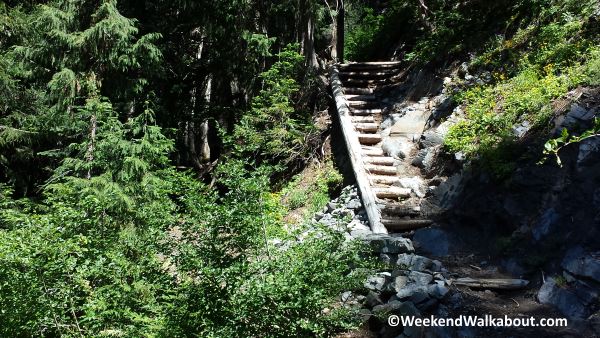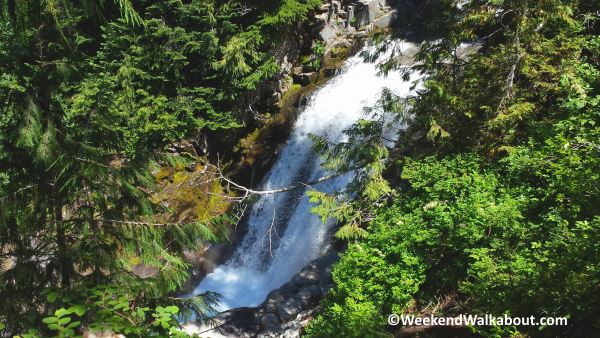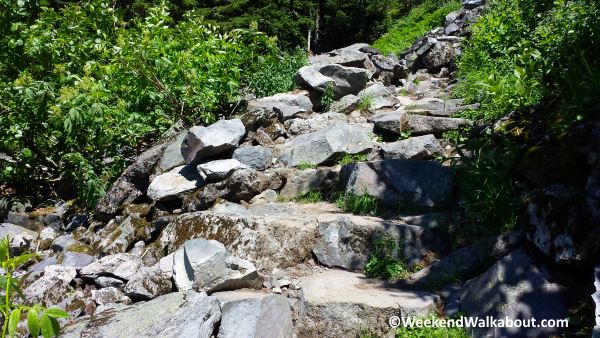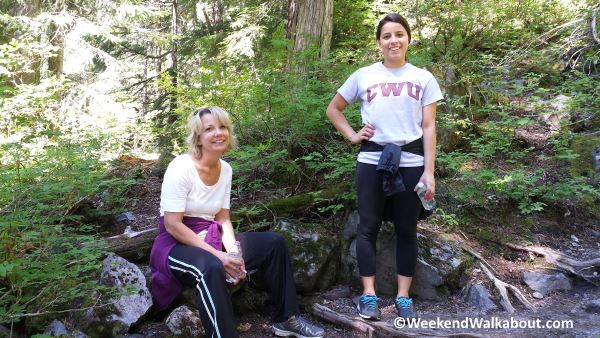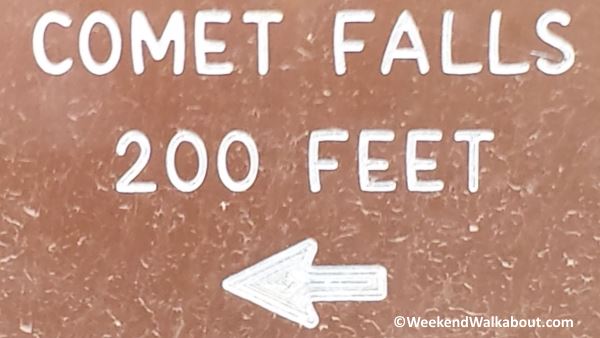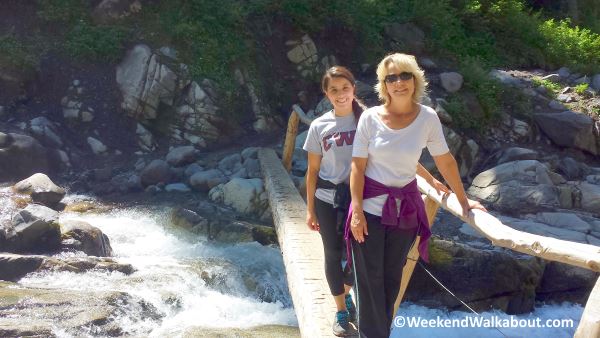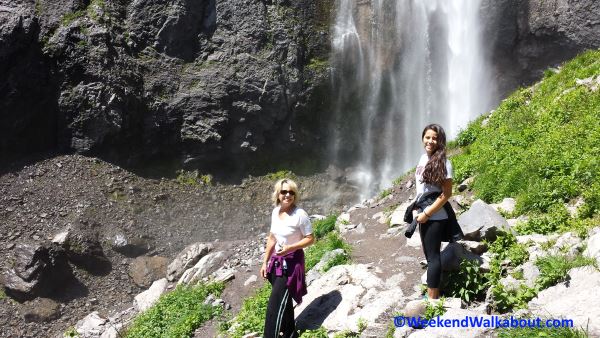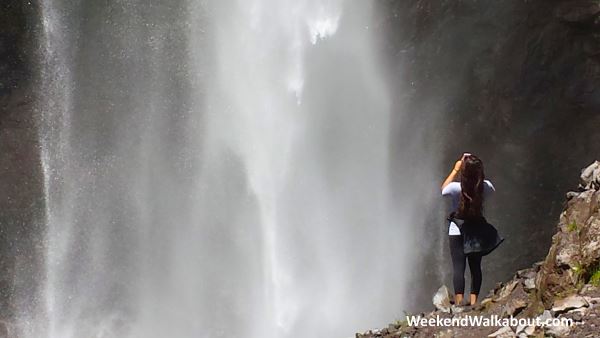 Save