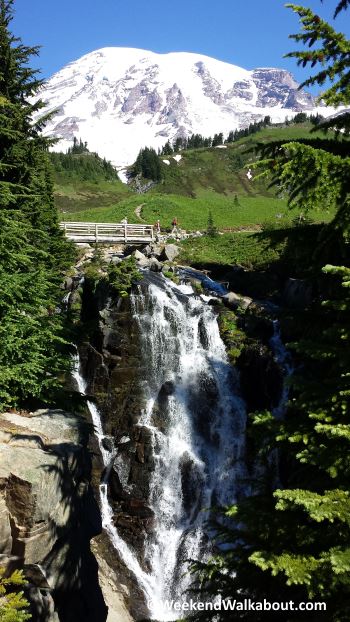 We had researched some of the waterfalls in the Paradise area of Mt Rainier National Park and had determined which of them we would be able to get to in one day.  We selected Myrtle Falls to be our first stop.
By the time we arrived at the Paradise Visitor Center on this Saturday morning in late July, the visitor center parking was already full and we were directed to park on the roadside of the loop around the Paradise area.  Fortunately, we were among the first on the loop, and were able to park on the road just below the Paradise Inn, so we didn't have to walk far to get back to the visitor center.  An hour later, when we returned to our car, the parking had extended more than half way around the loop, so I'm glad we got there when we did.
The round-trip from our car, to the visitor center, to Myrtle falls, and back to the car was 1.4 miles with a peak elevation gain of just over 200 feet, following the Skyline Trail.  The pathway to the waterfall was entirely paved for easy walking.  The main trail takes you to a footbridge over the top of the falls, but there is a short little side trail that will take you halfway down the side of the waterfall to a viewpoint that allows you to take some very nice photographs of the waterfall.
Myrtle Falls is a pretty little waterfall, with a drop of about 72 feet.  it starts with a wide flow over a large rock wall, but is funneled down to a narrow drop at the bottom.  I loved how the viewpoint was situated to make it easy to photograph the waterfall with the snow covered mountain looming large in the background.
As we were leaving the Paradise area and moving on toward our next stop, Paradise awarded us with one final treat.  We noticed that along the back side of the Paradise loop, cars were stopping and people were jumping out of their cars with cameras.  We weren't sure of the reason for the commotion, but Leslie spotted it first.  Down in the middle of the loop, about a hundred yards from us, was a black bear and her two cubs.
The bears were just out of distance for a good photo with my Samsung S4 camera phone that I use for all my shots.  I snapped a few photos, anyway, and you can tell that you are looking at some bears.  I think that was the first time I had ever seen a bear in the wild, so we were pretty excited about it.