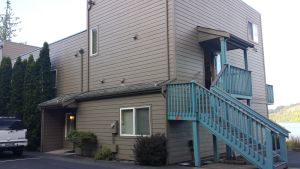 Our 2 bedroom, 2 bathroom unit in the Worldmark by Wyndham Discovery Bay resort in Port Townsend, Washington is the largest unit of any Worldmark resorts that I've ever visited.  The kitchen dwarfs the one in our own home.  The dining room and living room are spacious.  The massive master bedroom suite fills the upstairs area and includes a jetted tub.
We enjoy the view from our deck that faces the bay, although our unit is located on the upper level behind the front row of buildings, so our view is slightly  impeded.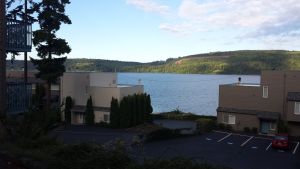 This may have been my first resort registration where they didn't put on the hard sell to get me into an "owner education" meeting.  Normally we are promised a $75 gift card and free breakfast for sitting through a 45 minute group educational presentation with no sales pressure.  That always becomes a 2 hour one on one hard sell.  It was refreshing to not have to endure that this time.
The biggest disappointment of this stay was finding out that they don't give out free coffee any longer.  You start your stay with enough coffee for one pot of regular and one pot of decaf.  I don't know about other guests, but that isn't nearly enough for us and our group.  They said that was a new practice for the company since February, but we stayed at another resort this past March and had all the coffee we needed.
Note – We stayed in the Worldmark resort in McCall, Idaho immediately after our stay at Discovery Bay.  McCall was still giving away free coffee but stated that on the following Monday, they were going to begin charging for it.
Many times when we stay at a Worldmark resort, our number one desire is for rest and relaxation, and we spend much of our time watching movies and playing games in our unit, or swimming and hot tubbing in the resort facilities.  Ironically, given that this is the finest unit that we have been in, we didn't spend much time at the resort. This trip was all about the outdoors.
On the way to the Discovery Bay resort on Sunday, we stopped by two waterfalls that are along Highway 101 – Vincent Creek Falls, and Rocky Brook Falls, which are part of the Olympic Peninsula Waterfall Trail.
On Monday, we visited Forks and La Push to enjoy some "Twlight" trivia and photograph Bella's 63 Chevrolet Pickup.  While in La Push, we hiked in to Third Beach and stopped to photograph Strawberry Bay Falls, another waterfall on the Olympic Peninsula Waterfall Trail.
Tuesday, we went to the Dungeness Spit to walk out onto the longest spit in North America.  After a brief stay there, we drove up to Hurricane Ridge.  At Hurricane Ridge, we found a picnic table and ate lunch while watching the numerous deer wandering around amongst the trails that were peppered with visitors photographing the deer from distances as near as a few feet.  Obviously, the deer are very comfortable being around the human population and know that they are safe in this area.
Before returning to our condo that afternoon, we made one final waterfall visit.  This was to the Marymere Falls near Crescent Lake.  Of all the waterfalls we visited on this trip, this was probably my favorite with Rocky Brook Falls coming in as a close second.
We would love to have driven around to Lake Quinault and several other of the many waterfalls in the region, but that will have to be another trip.  We were only here for three nights on this outing, and there is way too much to see in only a few days.
We will definitely be back, and next time, probably for a full week.  There is enough to do around here to make it worth spending that much time.  The only thing that we'll do different next time is to bring our own coffee.