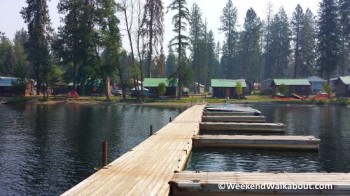 A very close friend of mine has enjoyed an annual vacation at the Rainbow Beach Resort on Twin Lakes In northeastern Washington's Ferry County for many years.  In fact, when he was a child, his family spent annual vacations at the same resort.
For the past 15 years, or so, my friend has been sharing stories and pictures with me each year upon his return from vacation.  He's shared about the wakeboarding and tubing behind the boat with his kids.  He's described his fishing successes, including the best fishing holes on the lake.  Over the years, I've come to feel almost like I've been there after seeing so many photos of the surrounding landscape, cabins, favorite fishing holes, etc.
Finally, this summer, it worked out that my wife and I were able to join our friends for a few days during the two weeks of their stay.  We chose to make the 4-day weekend trip on our Goldwing.  Travel time was about 4.5 hours each way, so a fair amount of our time was spent on the road.  What better way to do that than on a motorcycle!
The drive from our house began with mostly flat, straight roads.  We were prepared for it to be quite a warm day, so we left early enough that we wouldn't be on the road when it got too hot.  The last quarter of the trip, as we started climbing into the mountains and came closer to the lakes, we found some nice motorcycle roads – the kind with all the twisties and switchbacks.  We arrived at the resort safely and in good time.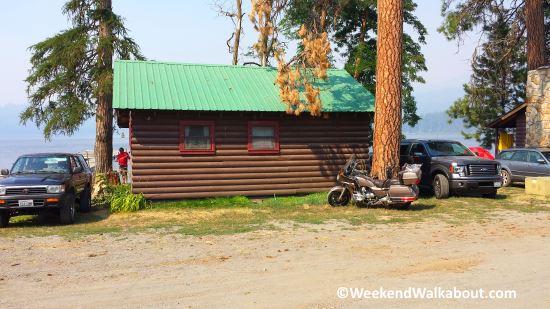 Due to a number of wild fires in northeastern Washington, there was a bit of a haze over the lake and throughout the area.  It was smoky enough that someone with allergies or respiratory sensitivities might have had problems, but Leslie and I didn't.  A few times, I could feel a bit of a burning in my eyes, but not enough to make me feel that I didn't want to be there. You'll notice the haze in some of the photos on this page.
The cabins at Rainbow Beach Resort are small and modest, but when you are spending most of your time on the lake, you really don't need much more than a comfy bed to sleep in.  My friend brought a small window air conditioner with him and rigged it up in the window above the kitchen sink.  That, along with a number of fans throughout the cabin kept it very comfortable.  I can imagine that without the A/C, it could get nearly unbearable in those little dwellings during the heat of the summer.  As I understand, the cabins used to be shaded a little better, but a number of trees have fallen over the past several years during some storms that came through and brought some very high winds.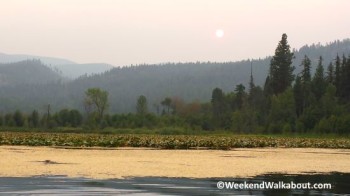 Leslie and I each purchased a one-day fishing license and spent a good part of the day on Sunday out on the boat fishing for bass.  We fished for a few hours in the morning and again in the evening.  From my friends years of experience fishing at these lakes, he's determined that those times of the day usually provide the most success for catching fish.
Leslie had the most success in catching the most fish.  She caught 5 and I only caught 3, however, I can revel in the fact that I actually caught the biggest bass within our group.
On Monday, our second full day, we took a drive north to go through Kettle Falls and Colville.  It was a fairly quick trip, but we had time to go through some antique stores and thrift shops.  Like most of the shopping of that nature that I'm involved in, I do lots of looking but very little buying.  I find it interesting and enjoyable.
We learned that the weather report for the next day (our departure day) was supposed to bring some afternoon thunder showers.  We had planned to leave around noon, but decided instead to get on the road early so that we might get a jump on the stormy weather.  We managed to catch some rain during the early part of our ride, but nothing severe.  By the time we had made it about half way home, it was actually getting rather warm.  In fact, by the time we got home, it was downright unbearable.  We could have used some cloud cover and even a little moisture to keep things a little cooler.  I'm glad we didn't wait until noon to leave Twin Lakes.  That's not to say that I was anxious to get away from Twin.  I'm just saying that an afternoon ride would not have been pleasant that day.
To summarize the time we had, I'd say that the lake and the area was very nice, the cabin was very adequate, but the time we were able to spend with our friends was priceless.