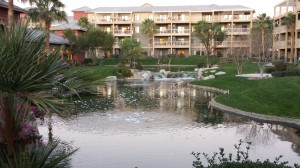 While in Indio, CA, I received a text message from my dad, letting me know that the high temperatures back home in Central Washington state are beginning to move upwards toward 40 degrees.  Whew!  Heat wave!  I took pleasure in returning a text to let them know that the cold temperatures at night don't get down much below 50 degrees here.
We are absolutely loved our stay at the Worldmark resort in Indio, California.  Surrounded by The Golf Club at Terra Lago and wintertime temperatures in the mid 70's, this is  paradise.
The Resort
The  Worldmark resort in Indio might be one of the finest of all the Worldmark properties that we've stayed at.  Our room was quite spacious, relative to those of other resorts.  The quality of furnishings and the upkeep of the room was very similar to all others.  In my opinion, Worldmark rooms are good, but not superior.  That's not a complaint.  Keep in mind that an ownership with most of their competitors is far more expensive, so one would expect much finer accommodations.
The resort facilities at Indio are amazing.  We spent the whole week at the resort, and barely left the grounds.  They have so much to do.
My young adult son and a friend of his were with us for this trip.  They played tennis, basketball, billiards, and ping pong every day.  All of us swam in the pool, relaxed in one of four spas, and floated the lazy river.
It's a good thing that they offered so much for us to do and we were so content to mostly relax and play at our resort.  As it turns out, there wasn't a whole lot nearby for us to do that we were interested in getting out for.  We did get out and about a couple times, though.
Things to do near Indio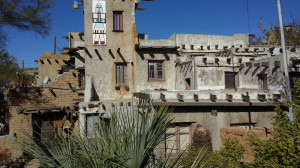 One of the significant reasons we elected to visit Indio, is that my in-laws live in nearby Desert Hot Springs during the winter months.  Naturally, we spent some time with them during our vacation.  I'm not suggesting that visiting my wife's folks would be a highlight for anyone else, but if you are ever near Desert Hot Springs, you may wish to visit a cute little attraction called Cabot's Pueblo Museum.
This museum is the homestead of an early settler in the region.  His home, outbuilding and landscaping is fashioned almost entirely from recycled materials and/or natural resources that he scavenged from around the area.  Learning about Cabot Yerxa and about the development of the city of Desert Hot Springs was fascinating.
I don't know that I would recommend driving all the way from Indio just to see this attraction, but if you are in Desert Hot Springs, it's certainly worth taking a little time to walk the grounds of the homestead.  We didn't spend the money, or take the time, to go inside the buildings, but there was plenty to see without doing that.  If we weren't so consumed with pinching pennies on this trip,  I'm sure we would have enjoyed taking the indoor tour.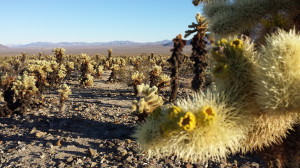 On one of our other days during the week, my wife and I (without the boys) took a drive to Joshua Tree National Park.  I think the boys were interested in going with us, but on the day that we decided to make this excursion, they had already scheduled time on the tennis courts at the resort and had made arrangements to play some doubles with some other guests.
As it was, we only allotted ourselves about 4 hours to spend at the national park, including drive time, which was about a half hour each way.  That's just not near enough time to do it justice.  I could have spent a couple days there, and not seen all that I wanted to see.
You have to be a nature lover to fully appreciate the beauty of this region.  Our timing wasn't the best, since they haven't had much moisture, so the colors were a little drab.  There were lots of earth tones, you might say.  But, the varieties of plants and the earth and rock formations that surrounded us were amazing.  We didn't even make it to the most popular part of the park, as we entered through the Cottonwood entrance on the south and we didn't have enough time to drive through to the northern parts of the park.
Later that same evening, we went to Palm Springs for their Village Fest.  Imagine a farmers market with 150 booths on one city street lined up about half a mile.
Outside of that, we just sat around at the resort, relaxed, and enjoyed the perfect weather.  That's what I call a vacation.