The previous day's hike just wasn't enough for me.  I wanted something with just a little more challenge.  I was in the mood for some serious exercise.
I didn't necessarily want to walk a lot of miles.  I was looking for some climbing – something to stretch my abilities, a little.  What I ended up with was something that was supposed to be a 5 mile hike with a 2000 gain.  It's called the Baldy Mountain Trail and it's located between Yakima and Ellensburg in the Yakima River Canyon.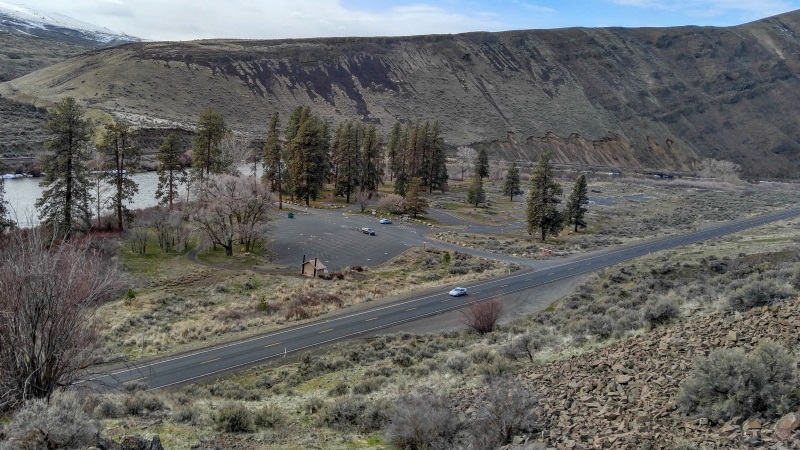 This was my first solo hike of any significance.
It started off a little rough.  When I had researched the hike on the internet, it said that the trail head was across the highway from the Big Pines Campground.
I parked in the day parking area, posted my Annual Pass on my rear view mirror, and walked across the highway to find the trail head. All I found were a number of lightly defined trails that appeared to be something more like animal trails.
I picked one that seemed to be more heavily traveled than the others.  It led me to some steep inclines and some treacherous scrambles up some scree. By then, I was certain that I had made an error, but I was too far to turn back.  Not only that, but it looked like the return down would be scarier than what I had just come up. I continued on up with the intent (hope) that I might find an easier way back down.
Hallelujah! About two thirds of a mile up, I found the Baldy Mountain Trail.
My shortcut eliminated about 3/4 of a mile from the total length of the correct ascent.  The gain didn't change.
By the way, the trail head is across from the other end of the campground.  Not across from the day parking area.
Anyway, the rest of the trip up the hill was about what I had imagined it would be. I liken it to a stair case that keeps going up.  I think Led Zeppelin had a song about it.
The trail was damp, with a little snow in places. The trail was packed with enough rock to keep it from becoming overly muddy.
At the top, I felt like I could see forever in every direction.  I'm so glad it was a relatively clear day.  There were high clouds, but I could still see a great distance.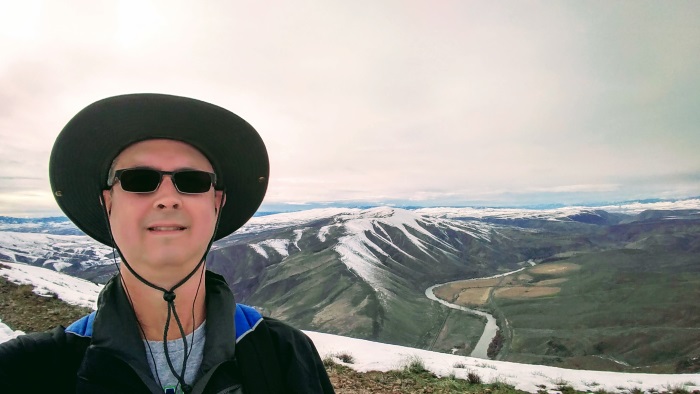 For the next two days after this hike, my calves and thighs reminded me of how much value I get from hiking.  Pain is gain, right?
Edited with BlogPad Pro