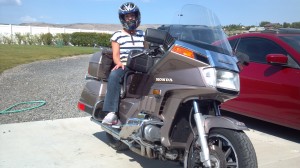 Check it out! This past weekend, my wife and I wanted to do some motorcycle touring so we went out and picked up this 1984 Goldwing Aspencade. It's been around the block a few times and is a little rough around the edges, but it runs and rides great.
This is going to make it real easy for us to take off for the weekend and tour around the great Pacific Northwest. It will certainly add a new element of adventure to our travels.
We already have a couple trips planned and coming up. We're going to ride down to central Oregon to visit my in-laws, soon. That trip will be around 500 miles round-trip and will span 3 days.
Soon after that, we'll plan to ride to Leavenworth, Washington and back. We'll be attending an annual family get-together, there. It will be a one day round trip that will cover about 200 miles. I'm especially looking forward to that drive.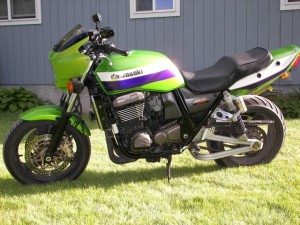 There will be many more trips like those. I love riding motorcycles and am excited to finally have a bike that's made for touring. The bike I had prior to this one was great for getting back and forth to work, or short trips around town. It was fine for short day trips by myself. It wasn't any good for passengers and it wasn't comfortable for long trips.
I'm sure you can understand by looking at the picture of my old green monster why I loved riding it.  I'm going to miss it, but I'm looking forward to many new touring adventures on the Goldwing.