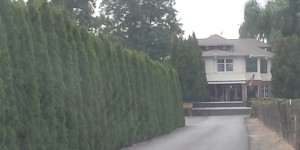 The Birchfield Manor has served guests from all around the world.  Some of their guests have even traveled hundreds of miles for the sole purpose of dining here.  Only the finest dining establishments can claim to be a destination for travelers, and the Birchfield can legitimately make that claim.
When I was still a teenager, like so many my age, I could barely rub 2 nickels together.  The Birchfield Manor was hardly a place I could afford to frequent.  Though not outrageously expensive, they are a business and thus have to produce some profit.  They use the best ingredients, provide first class service, and surround you with beautiful and comfortable decor.  They have to charge prices that cover their overhead, and given my circumstances at the time, seemed quite lofty.
Fortunately for me, I worked for a restaurant whose owner had become a personal friend of Wil and Sandy Massett who, at that time, owned the Birchfield Manor.  Because of that relationship, my boss occasionally held events for his restaurant staff at the Birchfield Manor.  What a privilege it was for me to be able to frequent an establishment that held such class and style.
Around that time, I save up my nickels for awhile and was able to take a special young lady to the Birchfield for dinner one evening.  During the meal, I presented her with a promise ring and expressed my wishes to her that we would save ourselves for one another.
That young lady and I have now been happily married for more than 30 years.
The Food at Birchfield Manor
As far as the food goes, I must say that I've not ever had anything there that I didn't like.  Even though they have served some dishes to me that just didn't sound all that good, and I was sure that they wouldn't be that pleasant, I've always enjoyed every bite.  One time, they served me something called gespacho…..really?  C'mon, now….cold tomato soup?  I don't even like tomatoes…unless they're cooked into something like spaghetti sauce.  As it turns out, the way they prepared it was quite tasty.
Certain Items on the menu really get my chops watering.  My all-time favorite is their fresh filet of salmon in a puff pastry with wine sauce.  You owe it to yourself to try that.  Or, for the red meat crowd, you can't go wrong with their filet mignon.
Birchfield Manor's Service Quality
Let me tell you a brief story that describes the type of service that you will receive at the Birchfield Manor.
One time, my wife and I were dining at the Birchfield with another couple who were friends of ours.  Near the end of the meal, the server came to our table and asked if we would like coffee or tea.  My friend blurted out that he would like some hot chocolate.  The server offered up that they could provide that for us and brought us what turned out to be the best tasting hot chocolate that I've had anywhere, still to this day.
Approximately one year later, my wife and I were at the Birchfield Manor once again.  We happened to recognize that we had the same server as the year before, but we had not been there anytime between that evening and this one.
When it came to the part of the dinner that the server offers coffee or tea, the server started to make those offerings, but suddenly stopped himself and the proclaimed, "Wait!  You want hot chocolate, don't you."
Bed and Breakfast at the Birchfield Manor
My wife and I have even spent a night at the bed and breakfast.  That may seem  a little silly, since we live within 5 miles of their property.
It was on one of our wedding anniversary dates that we wanted to make a little special.  We decided to splurge for our special occasion, but we didn't have enough time to be able to leave town.  So, we found a babysitter to watch after the kids (Grandma and Grandpa), and drove down the road to the Birchfield Manor.  As it turned out, this was as nice a vacation as any other we could have taken.
The setting is quiet and comfortable.  Their swimming pool was cool and refreshing – just right for relaxing in the hot summer evening.  Their grounds were immaculate.  The rooms were plush, yet homey.
We stayed in one of the upstairs rooms in the main farmhouse.  The new addition that they call the cottage had been built not long before our stay.  It was quite a bit more spendy, and a little too much for our budget at the time, so we did what we were able to do.
I don't remember much about the specifics of our breakfast – it was a long time ago, and being our anniversary, I had other things on my mind.  What I do remember was that for part of the breakfast, they served some homemade granola.  I had never cared much for granola, but this breakfast at the Birchfield changed all that.
My Recomendation
I suppose I've made it very apparent that the Birchfield Manor holds a special place in my heart.  They've been very hospitable to my wife and I over the years and have added a touch of class to our dining experiences.  I can add my strongest endorsement to this establishment. Whether for dinner or for a stay at the bed and breakfast, try it.  I'm sure you'll like it.  It isn't the cheapest place around, but it's well worth every penny.