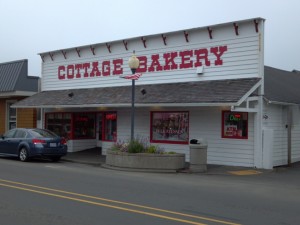 I had seen photos of Cottage Bakery on Pinterest before our trip, so I suspected that it was a highlight to a number of people's vacation.  I've never shied away from checking out a  local bakery, so I figured that I owed it to myself and to my readers to make my own evaluation of this one.
While on a walk by my lonesome, I decided to stop by.
The first thing I noticed when I walked in the shop was that I would have to wait in line to see what they have in their pastry counter.  I'm really not the patient sort, but in this case, having to wait in line meant that the product was in demand.  That's a good thing.
I purchased a small selection from the pastry counter and took them "to go" back to my condo to share with the family.  We sampled their fruit turnovers, a cream cheese butterhorn, and something they call a blueberry race track. Later we went back as a group to try a few more items, including their muffins.
Everything we consumed from this shop was very tasty.  I would have to say that Cottage Bakery will be a regular stop on every trip we make to Long Beach.
Related articles