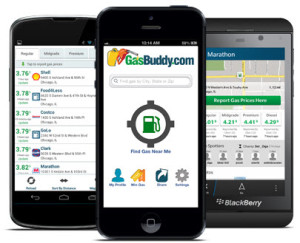 We just returned from a week in southern California.  We drove a total distance of about 2750 miles from Washington state to Indio, CA and back.  We also did a little driving around the Indio/Palm Springs area while at our condo down there.
During the trip, there were two phone apps we used that were indispensable.  The first was Google Maps/Navigation.  It has come pre-installed on every android phone I've ever owned.  It's the best tool on my phone.  I use it all the time.
I'm not writing this post to discuss Google Maps, though.  I just wanted to highlight the other app that became extremely useful for us.  Let's talk about Gas Buddy.
Gas Buddy is an app for you phone that provides you with gas prices at local stations wherever you happen to be and/or inquire about.  You can view gas prices ranked in order of price or in proximity to your location.  You can view prices in a list format or in a map format.  When you select a gas station to fill up at, you press the button to navigate to that station.
We used the app regularly to find the gas stations with the best prices.  since we used around 100 gallons of gas, being able to save 10 to 20 cents per gallon or more each time we stopped made a little difference.  We bypassed certain cities because of their high gas prices.  Without the app, we may have unknowingly paid significantly more for our fuel.