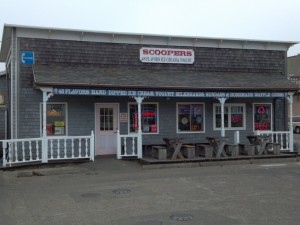 Sometimes we like to stop for ice cream or frozen yogurt – ok, frequently, we love to eat frozen desserts.  Our trip to Long Beach was no exception.
While strolling downtown along the main strip, we came across a place called Scoopers.  Their sign out front boasted 48 flavors of ice cream.
"That's a lot of flavors!" I thought. "I'm sure I'll find something I like.
Upon entering the shop, we were engulfed by the aroma of sugar.  "Mmmmm."  They have a glassed in counter full of chocolates.  They carry a good variety of fudge.  They also sell espresso drinks.  All this was very tempting, but we were in the mood for ice cream, so we made our way past all that.
I learned that the sign out front was a little misleading.  They actually had 64 flavors.  The have a diverse selection of Alpenrose brand ice cream.  I ordered a scoop of their Mt. Mazama Mint Fudge (I'm partial to chocolates).  Oh, boy!  It was amazing.
Their prices were reasonable.  A one scoop bowl was $3.50 and two scoops were $4.75.  My wife and I, being the frugal shoppers that we are, ordered a 2 scooper and shared it, instead of each having our own bowl.  That workaround saved us $2.25.
Later, I had the opportunity to speak with the owner of Scoopers.  He shared that the business began as a corner Standard Oil/Chevron service station in 1928.  They continued to sell gasoline until 2003, when they decided that they couldn't compete with the likes of Costco and Safeway.
He maintains that they have 3rd generation visitors who stop by whenever they visit the Long Beach area.  Well, you can add me to the list of vacationers who will return to Scoopers on the next trip to Long Beach.