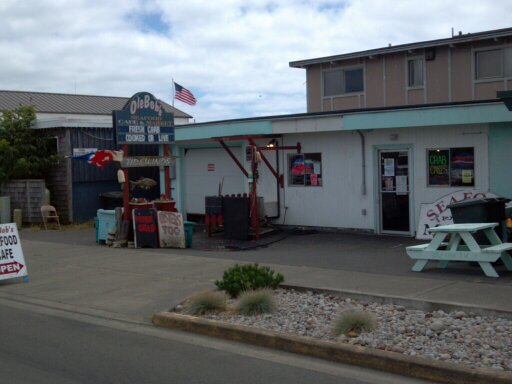 Olebob's is the kind of place that one would drive right by and not even notice as someplace that they might wish to stop.  It's located along the port of Ilwaco in the midst of several seafood packing houses.
Whenever I am looking for a place to eat during one of my vacation trips, I try to find locals who will confide in me where they like to eat. I avoid the trendy tourist focused restaurants and instead attempt to find where the "real" people eat.
Olebob's came on one of those recommendations. I asked where to go for the best seafood. I was told that if you want Clam Chowder you should go to Captain Bob's Chowder House, located next to Marsh's Free Museum. If you want fish and chips, you should go to the Lost Roo. If you want crab cakes, you should find Olebob's.
The short trip to Ilwaco was well worth it. We easily located Olebob's Galley Cafe nestled in behind their seafood market. We found casual accomodations and a relaxed family atmosphere. We placed our order at the counter and sat at a table for a short wait for our food.
The food arrived quickly and was hot and tasty. The crab cakes were scrumptious as were the fish tacos that I ordered. Our only disappointment was that the portion sizes were on the small side. None in our group walked away from the table completely satisfied and full. For the prices, we anticipated more food, but on the other hand, it's fresh seafood. Maybe our expectations were wrong.
Still, for the quality of the food, I would definitely go back.