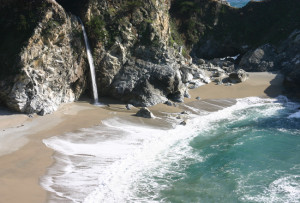 I was speaking with a business acquaintance and mentioned to him that I was planning to scour the northwest for all the best waterfalls in the region.  I told him that I am going to ride my Goldwing around my region to find all the most spectacular falls in my area.
He asked if I had ever seen the waterfall at Big Sur.  I had not.
This photo is one he emailed to me to show me what it was like.  He took the photo during a recent visit to the park.
I did some quick searching online and found that this is McWay Falls at Julia Pfeiffer Burns State Park in Big Sur to the south of Monterrey, California.
Based on the photo, I think it is a beautiful location.  Reviews from other people who have visited the beach are considerably positive.  It sounds like there are lots of interesting rock formations that some of the older kids like to climb around on.  There is some purple sand that people find very interesting.  Also, many people come in around sunset to take pictures of the sunset over the rocks.
I would definitely like to visit this area.  I have it on my bucket list to ride my motorcycle down the Pacific Coast from the northwest corner of Washington state, all the way to the southern point of the California coast.  I expect that we will stop here for a bit while we are on that trip.
Have you been here, before?  What can you tell us about this area?  Are the reviews from other visitors accurate?