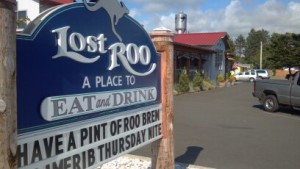 At the recommendation of one of the Long Beach locals, we stopped in at the Lost Roo restaurant for fish and chips.  While there, members of our party sampled crab cakes and clam chowder, in addition to the fish and chips.
No one in our group were the least bit disappointed with the experience.  The food was tasty and plentiful.  The service was prompt and friendly.  The decor and surroundings were clean and comfortable.  The prices were reasonable – even for our frugal style.
I enjoy dipping my fish in barbeque sauce.  During the meal, I asked for some BBQ for dipping.  The waitress, seemingly apologetic, commented that their barbeque sauce is made with blueberries and wanted to know if that would be all right.  "Hello!"  Of course it's all right.  Who wouldn't want to try some blueberry barbeque sauce?
The Lost Roo will definitely be a restaurant that we will return to on our next trip to Long Beach.
Related articles