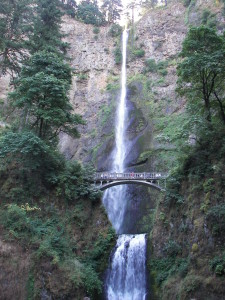 Leslie and I have decided that whenever we pull our Goldwing out of winter storage in the spring, we are going to begin touring Washington state and surrounding areas in search of the most spectacular waterfalls of the pacific northwest.  Our plan is to venture out about every other weekend through the riding months.
According to Northwest Waterfall Survey, there are around 2000 waterfalls in Washington and about 1200 in Oregon.  There is no possible way that we will see all of them in one summer, but we want to find the biggest and the best of all of them.
One of the most popular is Multnomah Falls.  I've been to that one many times, as has everyone who has driven down the Oregon side of the Columbia River Gorge on I-84.  It is a beautiful sight to behold and I would highly recommend stopping by the visitor's area and walking, at least, up to the Benson Bridge.
When we find our waterfalls, we plan to view them, take some pictures, and move on.  Don't expect us to do any waterfall hucking during our adventures.  Our pleasure is in traveling together with a destination in mind, and finding the destination.  The bonus is in the beauty of the waterfalls that we explore.