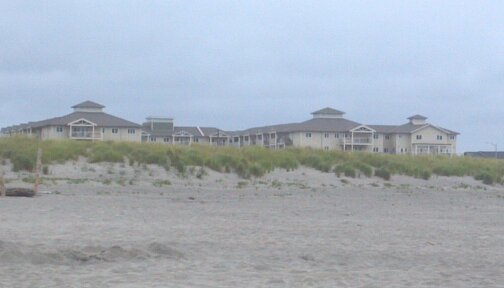 We have a membership with Worldmark by Wyndham, so much of our travel is to locations where they have resorts.  This trip is no exception.
Check In
Upon our arrival, the check-in was great.  The people at the desk were very courteous and helpful employees.  The explained everything to us quickly and clearly.
Then we stopped by the concierge desk to grab some information about the area and ask a few questions about restaurants and activities nearby.  After answering our questions, they proceeded to invite us to an owner education class over the next couple days.
I'm smart enough to know that owner education class is short for "presentation to get you to purchase more ownership points."  Anyway, the assured that it would be absolutely no longer than 1 hour, would be all about educating us on using our membership more effectively, and for our attendance, they would give us a $75 American Express gift card.  We agreed to attend.
The only truth to their offer is that they gave us the gift card.  The class lasted 2 1/2 hours and they offered to sell us more points.  We did get to tour their Presidential Suite.  OMG!  Now I know how the other side lives.  I'd have to save up all my points for a couple years to stay there, so it's unlikely that I ever will.
Our Room
One of the reasons I like Worldmark is that their rooms are very consistent.  Our room at Long Beach was no exception.  Our room was clean and well stocked with all the necessary supplies.  We always need more coffee, laundry soap, and dishwasher soap during our stay, but a quick trip to the front desk remedies that.
Good thing each room has a vacuum cleaner in it.  With two young toddlers along, we used it after every meal.  I'm sure most of their food ended up on the floor.
Wireless internet access  is available in the room.  It's a small fee for the service if you aren't an Elite member.  Fortunately, we have the Elite membership.  The Long Beach resort is in a beta testing of resortnet 2 which allows wireless access without requiring the resortnet box that other resorts use.  We found it simple to use and reliable throughout our stay.
Phone service around the peninsula was good, except for data access.  Even with Verizon mobile, we weren't able to connect with either 3G or 4G service, so we had no mobile data access except when in our room.
The resort has direct beach access. It's located right at one of the main beach access road in Long Beach.  You have to cross about 100 yards of beach grass before you get to the sand, but there are no other properties between the resort and the beach.
It's also got close access to the boardwalk that borders the beach area from the city of Long Beach.
Then on the other side of the resort, it's only about 3 blocks to the main street of town where all the  shops and restaurants are located.  We couldn't have asked for more convenience to all the activities.