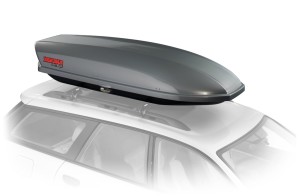 So, how do you take a 5-hour trip to the beach to spend a week with 5 adults and two toddlers in car seats with everyone traveling in one car?
First, it helps when you drive a Ford Expedition.
Second, you get a cargo carrier to mount on the top of your SUV, van, crossover, or station wagon.
As a disclaimer, I don't own the Yakima SkyBox Cargo Cargo Carrier.  I have been the happy owner of the older version, the Yakima RocketBox, for Many years.  We purchased it to use on our old Chevy Blazer.  After we sold our Blazer in favor of a pickup, we loaned our cargo carrier to a friend who used it on their Suburban.
Today, we are using it for trips with the family (kids and grandkids) so we can all travel in one vehicle.  It's had so much use and abuse, yet it still works the same as the day we bought it.  I couldn't be more satisfied with it.  Without our Yakima RocketBox, we would not be able to carry enough luggage to travel together with our entire group.
When we chose which of the Yakima products we would purchase, I selected the long box as opposed to the shorter but wider version.  My reason was so that in addition to regular cargo for trips, it could also double as a carrier for our skis.  I haven't been skiing in a number of years, but the box we selected is still very useful and versatile.
Today, there are too many sizes and styles to mention.  Yakima will have a cargo carrier to suit your individual needs.  Take a look at the selection below. The medium sized SkyBox is the same one that I purchased years ago (only they used to call it the RocketBox).

Yakima SkyBox 12 Rooftop Cargo Box, Small


Yakima SkyBox 16 Rooftop Cargo Box, Medium


Yakima SkyBox 21 Rooftop Cargo Box, Large

Here's what our old Yakima RocketBox looks like when it's mounted on our Expedition.  I'm amazed at how much cargo it can carry, even though it looks so sleek and slim.