We had to go to Seattle anyway, and had added plans to stop by Snoqualmie Falls along the way.  Why not see if there are any other waterfalls nearby?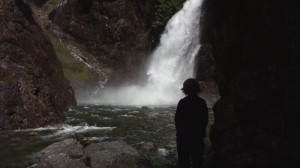 That's what we did, and we found Franklin Falls.  It's on Denny Creek, several miles east of North Bend and just west of the Snoqualmie Pass summit.  The freeway is split through that area, and has created a wide expanse of forest in between.  Part of Denny Creek flows through that expanse.  I've driven by there hundreds of times, and never even though about what all might be hiding in there.
We learned that there are forest roads through there that will take you to campgrounds and trail-heads.  When we spoke with forest rangers in Cle Elum before we continued on to Snoqualmie Pass, they weren't sure we would be able to access the trail-head due to the snow. Making time to stop by there was taking a chance, but we encountered no snow on the forest roads as we drove past the Denny Creek campground and parked at the Franklin Falls trail-head.
Click on the gallery photo below to see a slideshow of some of the pictures we took during our hike.
The trail turned out to be a fairly easy one-mile hike. The biggest challenges were a few short areas of remaining snow-pack covering the trail. There were also a couple sections of moderately steep grades. I think anyone, but the most feeble could easily make this hike, and small children may become weary and disinterested, but it wasn't a great challenge.
I noticed that there is a place a couple hundred yards from the falls, where the trail winds very near the forest road. If you can find that spot on the road, the hike becomes extremely short and easy. That may be the best bet for families with very young children.
It was a little surprising that we had a good media connection on our cell phones and I was able to text with my Dad and Mom and upload images to Facebook while we were hiking.  Dad really likes to stay informed on what us kids are all doing, especially when it's something exciting, like hiking in the mountains to find beautiful waterfalls.
This turned out to be a beautiful waterfall adventure.  Being an easy one-mile hike, we were in and out of there in a little over an hour.  The trail followed Denny Creek, and we passed a number of smaller creeks that empty into Denny creek, as well as other waterfalls that drop in from the other side of the creek from the trail.
We noticed a number of patches of these pretty yellow trumpet looking flowers.  I texted a picture to my Mom to see if she could identify it.  She recognized the flower, but couldn't remember what they were called.  Later, we saw a sign at the Snoqualmie Falls trail-head that had a picture of these flowers.  We learned that they are called "Skunk Cabbage".
If you are ever on your way over Snoqualmie Pass, and have an hour or so to spared, I highly recommend stopping to hike in to see the beautiful Franklin Falls.  Just take the Denny Creek exit and follow the signs to the Denny Creek campground and Franklin Falls.
Have you ever been to Franklin Falls?  Have you been to, or are you aware of any other nice waterfalls near Franklin Falls, or the Snoqualmie Pass summit?  Please let us know by leaving a comment below.