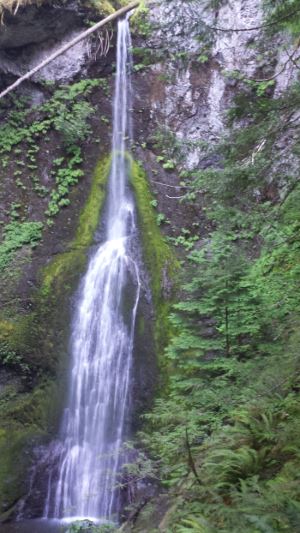 The last waterfall we visited while on our trip to Discovery Bay was Marymere Falls.  It's located in Clallum County in the north central part of the peninsula just to the south of Crescent Lake and about 20 miles west of Port Angeles.  The trail head is next to the Storm King Ranger Station.
The trail is a round trip of about one and a half miles.  It begins by taking you through a large culvert-like tunnel under the highway, then winds through a clean and well maintained path through the rainforest.  the scenery is exotic and vivid green.  I've heard that some describe it as like being in a Lord of the Rings setting.  That might be an accurate description.
The first part of the hike is fairly flat and level.  Along the way, you'll notice an abundance of ferns and some rather large trees.  You'll come to two rustic bridges.  The first crosses Barnes Creek, and the second is immediately following the first and it takes you across Falls Creek.  Immediately following the the second bridge, you'll start climbing stairs and ascending up about 200 feet to a moss covered ravine.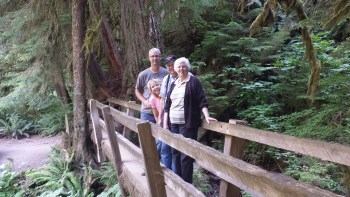 Along the way, the trail splits into a loop that will take you to two different view points for the waterfall.  If you take the left fork, you will first enjoy the lower view point which is directly across from the base of the falls and looking up to the top.  The upper view point provides you with a vantage point that is near the center-top of the 100 plus foot waterfall.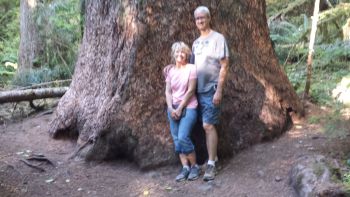 My mom and dad, who are in their late 70's/early 80's were traveling with us and were able to make the hike all the way to the lower viewing area.  They elected not to continue the climb to the upper viewing area.  Because the last part of the hike was mostly uphill with lots of stairs, I wasn't sure that they would continue all the way in to where they could see the falls, but they were troopers – very tired troopers, but they made it.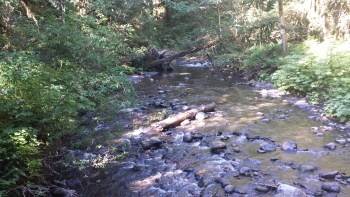 I can't begin to describe the feelings and enjoyment that I get from experiencing the beauty of the outdoors that God created for us.  All I can say is that the experience is well worth the short distance to travel and the easy walk to these falls.