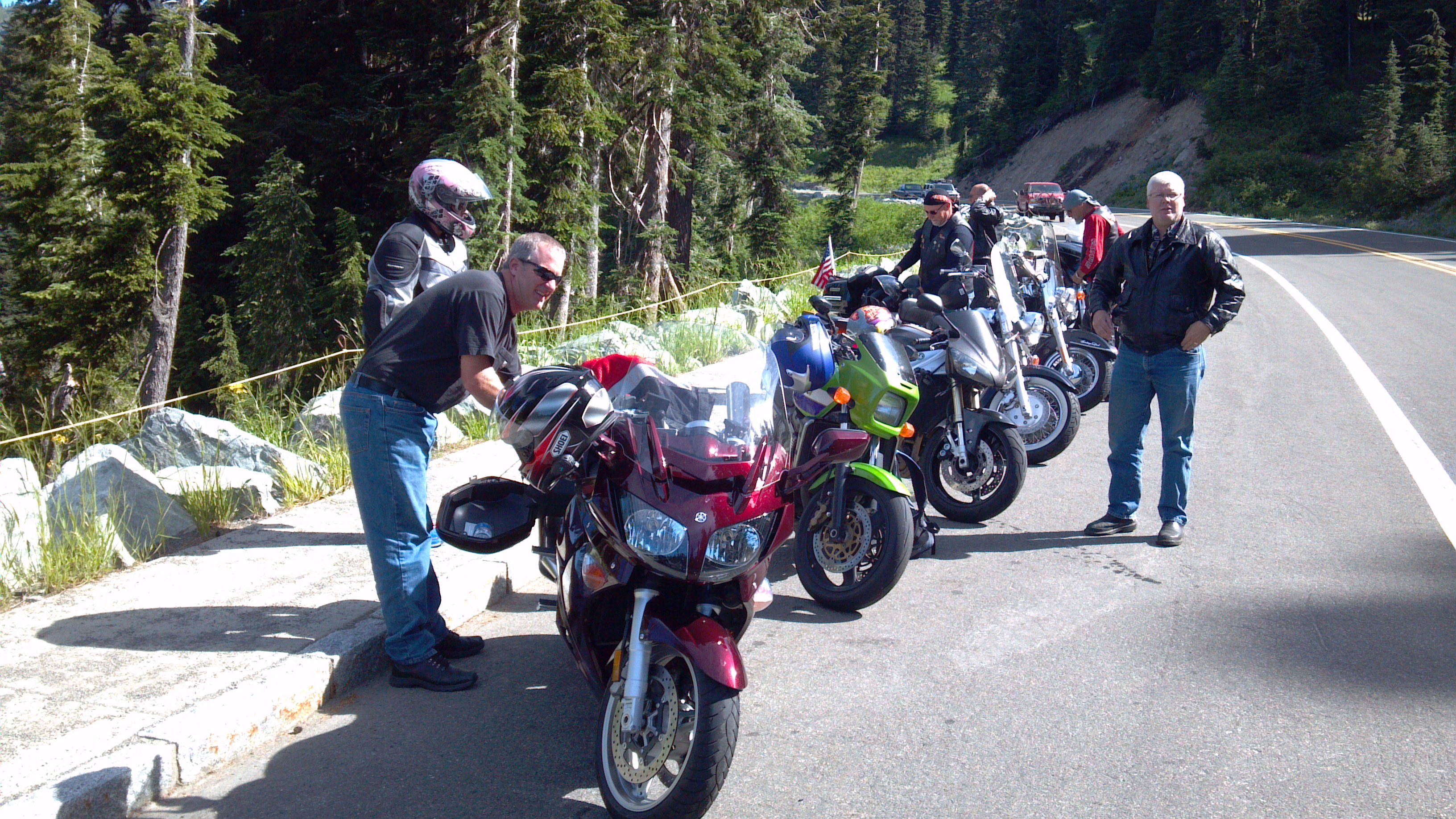 When my friend, Clyde, invited me on a motorcycle ride with a group from a local church, I jumped all over it.  I'll get out on the open road with my bike every chance I get.
My 2001 Kawasaki ZRX1200R isn't really meant for touring.  The seat isn't that comfortable and the riding position is a bit painful for long distances.
My wife won't ride with me except for short trips of about 20 miles or less.  She's been bugging me to get a Goldwing or some other type of touring bike – something with a plush seat and a back rest.  It's on the agenda to do that, but I'll need to sell my Kawasaki before I take that plunge.
For this trip, we were traveling a little further than 20 miles so my wife stayed home.  I was on my own this time.
Starting from the church in Yakim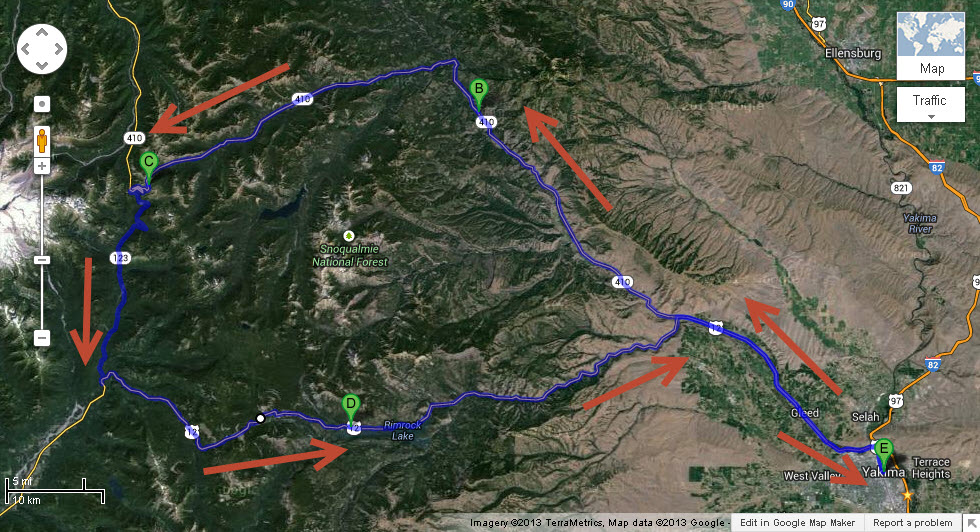 a that this group is from, we jumped on highway 12 heading east through Naches.  We stayed to the north at the "Y" toward Chinook Pass on Highway 410 and continued on until we reached Whistlin' Jack Lodge.
At Whistlin' Jack, we stopped for a brief stretch.  A few guys went into the store to purchase refreshments and/or to take a potty break.  This was about 40 miles into our trek, which is about as far as I can comfortably ride my Kawasaki without a break.
From Whistlin' Jack, we continued on until we reached the Chinook Pass summit.
The scenery from the summit is absolutely stunning.  I think it's one of the most beautiful mountain passes in the state.  The weather this day was perfect – clear, warm, and still.  The sky was blue, we were surrounded by the greenery, and off in the distance, you could see the white, snow-covered Mount Rainier….so beautiful.
And Tipsoo Lake right below us looked so refreshing.  Someday, I'll come back to hike some of the trails around the lake and through the mountains in this area.  If I wasn't with a group, I'd have been very tempted to venture off on one of them.
After our stop at the summit, we continued west on down the highway.  For the next couple miles there are a number of switchbacks as you make your descent.  For motorcycles, that's great riding – unless you are stuck behind a slow moving motor home pulling a boat.
It was refreshing to turn off Highway 410 and head toward Ohanapecosh on Highway 123 knowing the motor home was continuing west on 410.  By the way, Highway 123 is a very nice motorcycle ride – especially in the weather conditions we experienced.
We continued on past Ohanapecosh without stopping, though it's reputed to be a very nice location for camping.  I haven't been camping there for many, many years, and my memory doesn't serve me so well, but its popularity would suggest that it's a worthy camping spot.
Once we reached Highway 12 we turned East over White Pass passing by the White Pass Ski Resort.  Though we didn't make any stops until we reached the Silver Beach Resort, there are a couple highlights that usually grab my attention.
I love the view of Dog Lake, that is adjacent to the highway just before the final climb to the ski resort from the east.  It's such a beautiful lake, glowing in a mix of green and blue tones.  I did a bit of hiking there with my daughter a few years back.  Someday, I plan to make the trek to the top of Spiral Butte, just beyond Dog Lake.  Put that on the bucket list.
Frequently, when traveling over White Pass, I'll stop at the view point to look at the Clear Creek Falls, just across the highway and to the east of Dog Lake.  From the view points you can see down over the falls without having to hike in.  It's another bucket list item for me to hike in to see the falls from below.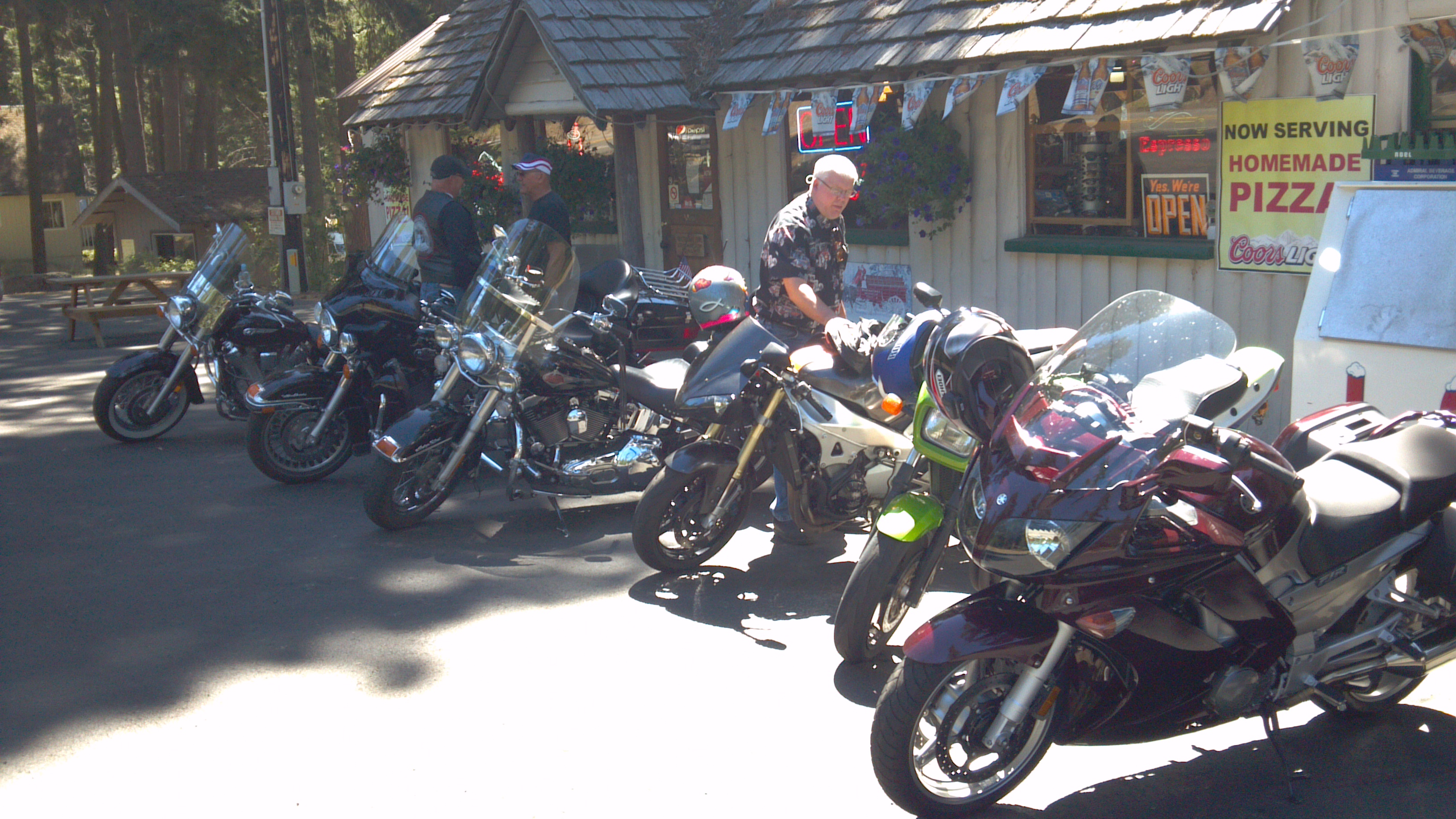 Anyway, we stopped at the Silver Beach Resort for a bacon burger and some more friendly conversation amongst members of our group.  Once we were done, we continued our ride back home to Yakima.
I understand that this group makes a variety of trips on their bikes about every 2-3 weeks.  I suspect that I'll go on more of those rides.  At some point, I'm sure that my wife will insist that I get the Goldwing so she can join us.  Actually, I like that idea as well.
Related articles